Swansea residents win rent battle with council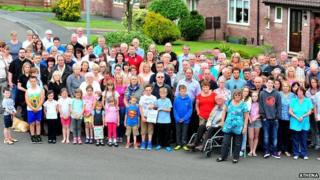 Residents on a Swansea housing estate have won their battle with the council over huge ground rent increases.
Fees for householders on the Elba estate, Gowerton, were to be increased from £50 to £2,500 by Swansea council.
But after an outcry from residents, the council has performed a U-turn and is now offering an undisclosed 'more affordable rate'.
Council leader Rob Stewart said: "Our fresh proposals show we have listened to residents' concerns and responded."
He added: "Throughout this process the council has followed the correct procedures.
"We will now be offering an alternative annual amount that's both far more affordable for residents and meets our needs as the owner of the estate's freehold interest."
The council also confirmed residents and leaseholders will be given the chance to buy the freehold of their homes based on the revised assessment.
The Elba estate facts
Swansea Council owns the freehold interest in the estate and the properties there
As part of the lease agreement, residents have their rent reviewed every 25 years
The initial ground rents were set at either £50 or £75 on April 1, 1989
An initial rent review was carried out in April this year as part of the 25-year renewal
There are 250 properties on the estate