Narberth pool campaigners set £60,000 target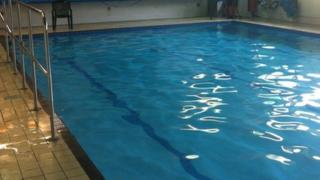 Supporters campaigning to save a Pembrokeshire swimming pool are issuing shares to raise a further £60,000 needed to keep it open.
The Swim Narberth group has an end-of-October deadline set by the council to come up with £120,000 to take over running the pool.
Half the figure has already been raised through donations.
Organisers say they now hope to run the pool as a community enterprise.
It has been open for more than 40 years but there were plans to close it on 1 April as Pembrokeshire council looked to make £20m in savings.
The 20m pool was given a temporary reprieve to give the community a chance to raise the cash.
Swim Narberth secretary Oshi Owen said: "We are still working hard to move things forward to get the share offer in place as soon as possible.
"Many people, understandably, are asking what will happen to the money that is donated if we are not successful in meeting the necessary targets set by Pembrokeshire County Council.
"The simple answer is that all monies received for shares will be returned, as will individual donations."