Robert Stevenson's life sentence for 'dreadful' Swansea attack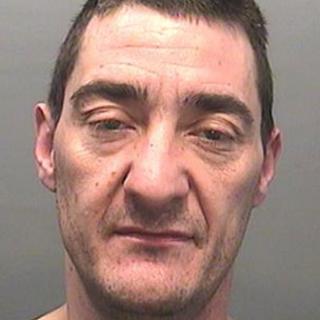 A man who violently attacked his girlfriend at his flat has been jailed for life at Swansea Crown Court.
Detectives called it a "dreadful assault" by Robert Stevenson, 40, and it left Kathryn Lawson, 23, in a coma with a serious brain injury.
Nearly 10 months afterwards, her sight and memory is still affected and she needs rehabilitation.
Stevenson admitted causing grievous bodily harm with intent.
Police were called to Heol Calfin in the city's Ravenhill area at 14:45 on 31 January.
Life support
They found Ms Lawson with a broken jaw and severe head and facial injuries.
She was transferred to hospital in Cardiff and at one point was on a life support machine.
Det Insp David Butt of South Wales Police said: "This was a dreadful assault on a woman and both the victim and her family welcome the sentence handed down at Swansea Crown Court."
He thanked the community for their help, as well as the medical team involved in Ms Lawson's treatment.
"Assaults of this severity are thankfully rare in Swansea but when they do occur they will be thoroughly investigated and every attempt made to bring the perpetrator to justice," he added.