24-hour children's hospital care moved from Withybush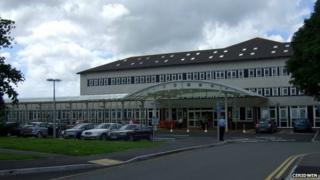 Sick children in Pembrokeshire needing overnight hospital treatment will have to travel to Carmarthenshire as 24-hour paediatric cover in Haverfordwest ends.
The paediatric unit service at Withybush Hospital will be cut to 12 hours from Monday as part of Hywel Dda University Health Board's shake up of services.
Nurses and middle-grade doctors will staff the unit from 10am to 10pm.
A 24-hour service will be available at Glangwili Hospital in Carmarthenshire.
All Pembrokeshire households and businesses are being sent a leaflet about the changes through the post.
Most paediatric services remain unchanged and will be accessed in the usual way, including all community, outpatient and minor injury services.
But the overnight inpatient paediatric service will be provided by a new unit in Glangwili Hospital, where there will also be a new high dependency paediatric unit for the whole area.
'Dressings'
Withybush will have beds for assessments, day treatments and investigations with care being provided by paediatric consultants, doctors, children's nurses and other healthcare professionals.
Consultant paediatrician and clinical lead for paediatrics, Dr Simon Fountain-Polley said: "Many children can be treated in this way and do not need an overnight stay.
"This can include children with sudden onset of pain, sickness, temperatures or infections.
"We will also be able to treat children and young people who need dressings, blood tests, X-rays or scans in Withybush Hospital."
Specialist care for sick and premature babies has already been moved from a unit in Withybush to Glangwili Hospital.
Almost 1,000 people marched against the plans but the move went ahead in August.