Police investigate after cannabis crop discovery in Swansea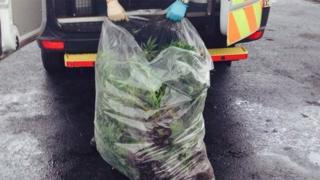 The strong smell of cannabis on a Swansea industrial estate led to police discovering up to 300 of the plants.
Officers were alerted to the aroma on industrial land off Pant y Blawd Road in Llansamlet.
A large number of plants were removed and an investigation into the suspected cannabis factory is being held.
South Wales Police tweeted a photo of an officer with a plastic bag filled with some of the plants on Sunday.
Local Policing Inspector Tony Meyrick said: "We are appealing to anyone who has any information which could assist us in the investigation to contact the police."