Conman stole £40,000 then claimed he was a quadriplegic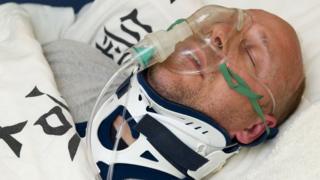 A fraudster conned his neighbour out of £40,000 then pretended to be a quadriplegic and in a coma for two years to evade justice.
Alan Knight, 47, from Swansea, faked his condition but was caught by police going on shopping trips and holidays.
After he was caught, Knight admitted himself to hospital to avoid court hearings on "at least two occasions".
But he admitted to theft and forgery at Swansea Crown Court and faces jail when sentenced in November.
The court heard that Knight, who claimed to have no movement from the neck down, was caught on CCTV walking around a supermarket and driving his car to Dorset.
'Calculated deception'
South Wales Police Det Con Paul Harry said: "This is the most calculated, long-term deception of a vulnerable, elderly neighbour I have ever seen.
"He had constantly avoided court for two years, costing police, the NHS and the court system thousands of pounds".
Knight was living on benefits after claiming he had suffered a massive neck injury.
The court heard he claimed his injury had caused him to have seizures which left him in a comatose state.
His wife Helen, 33, claimed she had to care for her husband who had snapped his neck after falling backwards as he pulled down a garage door.
But the whole time he was attempting to evade prosecution after carrying out an elaborate fraud targeting neighbour Ivor Richards' life savings and shares over a three-year period.
The court heard how he "systematically" funnelled £41,570 out of the pensioner's bank account which he used to pay for holidays and to buy a caravan in Dorset.
Officers tried "at least twice" to bring him court but each time he admitted himself to hospital claiming his condition had worsened.
However, doctors at the hospital spotted him eating, wiping his face and writing.
He finally appeared in court in a wheel chair and wearing a neck brace to admit the charges.
The court heard it was believed the bank had reimbursed his victim.