Swansea's Claire Warlow wins top primary school teacher award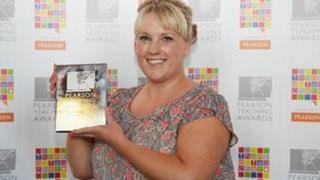 A Swansea teacher has won a UK-wide teaching award.
Claire Warlow won UK Teacher of the Year in a Primary School at the Pearson Teaching Awards in London on Sunday.
She teaches young children with learning difficulties at Tre Uchaf Primary School.
Education Minister Huw Lewis said: "Claire, her family, friends, colleagues and pupils can be hugely, and rightly, proud of her wonderful achievement".
Ms Warlow is based at the school's specialist teaching facility and works with children aged three to seven.
She was one of five Welsh finalists at the awards, set up to honour teachers in England, Wales and Ireland.
Judges described Ms Warlow as "one very special teacher" who has carried out "exceptional work with young children".