Young carers' plight shown in board game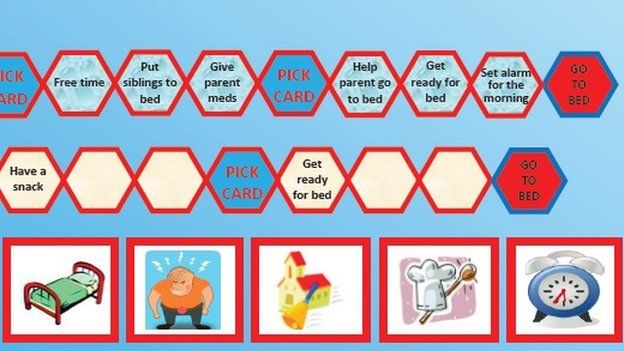 Young carers in Wales have turned their lives into a board game to raise awareness of their plight.
Players discover the different paths taken by young people depending on the instructions on cards they pick up during the course of the game.
Carers Trust Swansea Bay said it had been well received in trials in four local schools.
According to the 2011 Census, one in 40 carers in Wales is aged under 17, the highest proportion in Britain.
Activities co-ordinator Geraint Turner said the aim was a fun way to promote the need to support young carers.
"The players either go through the game on the path of the young carer or the path of the young person, and each step is another aspect of each of their lives," he said.
"The 'pick up' cards are uncontrollable events that either have a positive or negative outcome for each player."
One card penalises a young carer for being too busy to do their homework.
Another tells a young person without caring responsibilities to make their own breakfast if their parent is ill - something a young carer will already be used to doing.
Case study - Vickie Lovell, 16, from Neath
"My mum's got a malignant brain tumour and Cushing's disease and my stepfather is epileptic.
"My mum has really bad pain in her back and finds it hard to walk and my stepfather's muscles swell so he can't walk and do much.
"So I do quite a lot of the cleaning and cooking, I fetch the tablets from the doctors and I do some shopping.
"It puts quite a lot of worry on me... as well as school work and everything else, it adds quite a lot of things to do and plays on your mind.
"Everybody's lives are hard and quite a lot of people go through different things, but I know I have an extra thing to worry about.
"But at the end of the day it's what makes me 'me'."
Lynda Clarke, chief executive of Carers Trust Swansea Bay, said the game had "captured the imagination" of young people and their teachers.
She said: "It's really about recognising the fact young carers are young people with additional responsibilities for caring beyond their years."
Related Internet Links
The BBC is not responsible for the content of external sites.