Ireland's president to open Dylan exhibition in Swansea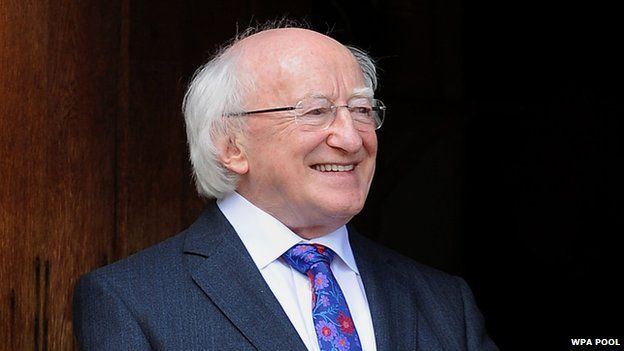 Irish President Michael D. Higgins is in Swansea to help celebrate Dylan Thomas's centenary.
As part of a two-day visit, the president will officially open a new exhibition dedicated to the poet at the Dylan Thomas Centre.
After attending a performance of Under Milk Wood, he will attend the final hours of 'Dylathon' - a 36-hour performance of the poet's work.
President Higgins will read the poem 'Elegy' at the event.
Speaking outside the Welsh Assembly in Cardiff, the president hailed Dylan as one of the "great giants of poetry".
He said: "The great thing about today is that you need to hear the words to appreciate the poems in their fullness."
'Distinguished Welsh artists'
The president, who is a poet himself, added he was also looking forward to hearing the "distinguished Welsh artists" reading from Dylan's works.
The 'Dylathon', which began on Sunday evening will see all of the poet's works - poems, short stories, plays and broadcasts - read by a some of the biggest names in entertainment and broadcasting.
Those performing include Sir Ian McKellen, Charlotte Church, Katherine Jenkins and many more.
On Tuesday the president will meet with members of the Irish Community in Wales on the final day of his visit.