Stardust to receive Swansea send-off with Wales funeral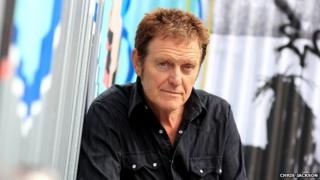 The funeral for 70s singing sensation Alvin Stardust is to be held in his adopted home of Swansea.
The London-born singer died of metastatic prostate cancer last week at the age of 72.
Born Bernard Jewry, the entertainer is best remembered for hits including My Coo Ca Choo and Jealous Mind.
The service will be held in St Thomas's Church on November 5, and will be followed by a cremation at Swansea Crematorium.
The church is the same place where Stardust wed his third wife, Swansea-born actress and choreographer Julie Paton.
The couple met in the 1990s, when the singer was starring in the musical Godspell.
After marrying, they bought a house in St Thomas and lived there when he was not touring.
After moving to Swansea, Stardust said: "I was born in the East End and both my mother and father were from big families so I had a lot of uncles, aunts and cousins and that has all gone now.
"So when I met Julie's family they were like an extension of that family I grew up in. I loved it."
'Half Welsh'
To mark the occasion, choir the Gwalia Singers has decided to break its "no funerals" rule for the service.
Choir spokesman Adrian Crowley said: "Julie asked us to sing at his funeral - we don't do that as a rule but we feel an exception can be made.
"Julie said that as a result of their marriage Alvin always felt half-Welsh.
"He wanted his funeral in Swansea and the Gwalia Singers to sing the hymn Calon Lan, which he loved."
Mr Crowley added there would be other musical tributes at the service, which friends from the entertainment world would attend.