Swansea chemotherapy unit celebrates 20th anniversary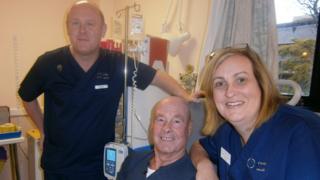 A chemotherapy unit at Swansea's Singleton Hospital is marking its 20th anniversary with the launch of a new mobile service.
The day unit has transformed the care of cancer patients and has seen a huge increase in users over the years.
Before the unit opened, patients requiring chemotherapy had to stay in hospital for one or more nights.
The unit is now introducing a mobile service which will be run jointly with Wales cancer charity Tenovus.
Hospital consultants used research funds to develop the day unit which opened on 1 November, 1994.
It initially treated 150 patients a month but soon became too small due to demand.
However, thanks to an Evening Post appeal and public donations, it was expanded in 2000 and currently treats 1,100 patients a month.
Unit manager Sue Rowland said: "Often a patient will leave here saying 'thank you, I've had a lovely day'. It's humbling they can say that when they're having chemotherapy."
Patient Brian Williamson was quick to praise the team.
The 70-year-old from Tycoch, Swansea, who is being treated for melanoma, said: "I've been here for two hours a day, every day for the last month.
---
Why chemotherapy is used?
To try to cure cancer completely - this is known as curative chemotherapy
To help make other treatments more effective - for example, chemotherapy can be combined with radiotherapy or it can be used before surgery
To reduce the risk of the cancer returning after surgery or radiotherapy
To relieve symptoms - a cure may not be possible for advanced cancer, but chemotherapy may be used to relieve the symptoms which is known as palliative chemotherapy
---
"It has been wonderful. Everyone is brilliant."
The mobile unit starts on 1 November and will be available two days a week.
Tenovus is providing the funding and the nursing staff for the first year.
It will be located at Singleton for five weeks before going out into selected locations in Swansea and Neath Port Talbot.