Action on absent father promised by minister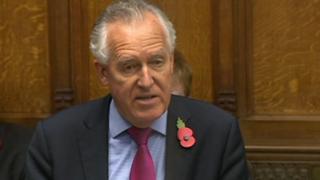 A man owing £23,000 child maintenance for his 12-year-old son has been condemned as "outrageous" by Work and Pensions Secretary Iain Duncan Smith.
Neath MP Peter Hain raised the case of single mother Lisa Jones in the House of Commons, claiming the Child Support Agency (CSA) had been "lackadaisical".
Mr Hain said her former partner had been taking "exotic holidays" instead of paying for the boy's upkeep.
Mr Smith said it was "complicated" because the man kept moving home.
'Pushed into poverty'
The Neath MP said families like his constituent and her son were being "pushed into poverty" by the authorities' failure to pursue "errant non-resident fathers vigorously enough".
"She's been left struggling on tax credits and housing benefit... while the father takes exotic holidays avoiding court orders," Mr Hain said.
In response, the minster said he would take "direct interest" in the case, adding that it was "complicated" by the fact that the man kept changing his address.
"It is outrageous this individual gets away with what he is doing," Mr Smith told MPs.
"We will sort this out."
The CSA is being phased out to be replaced by a new Child Maintenance Service.
Ms Jones, 33, from Resolven, said she was grateful for Mr Hain's help but felt that the government and the CSA were doing little to force her ex-partner to pay up.
She said she was frustrated that bailiffs were unable to do anything even when she tells them where he is living.
"They knock on the door, they're told he doesn't live there and they just walk away," she said.
"I should be getting £1,000 a month, including the arrears, but I don't get a penny."