Excess alcohol on Halloween impacts Morriston's A&E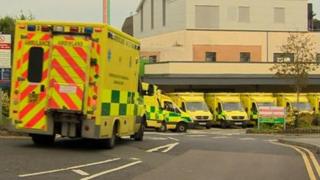 A health board boss has called for a curb on cut-price alcohol after a hospital's emergency department was overrun with people injured after drinking too much on Halloween.
Some had lost teeth after being involved in fights, while others were treated for excess alcohol.
The influx in patients at Swansea's Morriston Hospital caused a six-hour delay for treatment.
Its chief executive Paul Roberts said it put "huge pressures" on staff.
Mr Roberts, of Abertawe Bro Morgannwg University Health Board, said that by late evening on 31 October and overnight, the department was filled with witches, mummies, ghosts and other people in fancy dress - a "very large number" of which had had too much to drink.
Health risk
He said this had a "serious impact" on services, which had a knock-on effect on the department for the rest of the weekend and Monday morning.
Mr Roberts said he was dismayed to read news reports of some pubs and clubs offering cut-price drinks on Halloween, with some as low as 10p.
"In my view it is irresponsible to sell alcohol so cheaply and I would call on licensees and the bodies which licence pubs and clubs to consider carefully the effects of encouraging people to drink in excess," he said
He urged people to drink responsibly and said binge drinking not only put unnecessary pressure on hospital services, but was a risk to people's health.
Mr Roberts warned that with the Christmas season approaching, the pressure on services would get worse unless there was a more responsible attitude to alcohol.