Regeneration needed after Murco job losses - Alun Cairns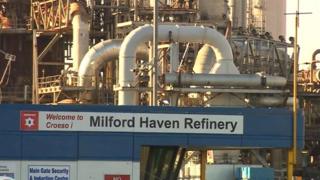 Pembrokeshire needs a regeneration project to help it recover from the Murco oil refinery closure, an MP has said.
The sale of the firm to the Klesch Group was called off last Tuesday with the loss of hundreds of jobs.
Wales Office minister Alun Cairns said the area needed a scheme like one which helped tackle huge steel industry job losses in Newport in 2003.
That project helped attract £230m of private investment to the city.
Not-for-profit regeneration firm Newport Unlimited was created after 1,300 people lost their jobs following the end of steel making at Llanwern.
It was founded by Newport City Council and the Welsh government and during its tenure it was credited with the transformation of the city's riverfront area and attracting the Ryder Cup golf tournament to Newport in 2010.
'Retaining skills'
Speaking to BBC's Sunday Politics Wales, Vale of Glamorgan MP Mr Cairns said: "We need to bring lots of initiatives together. Something immediately about retaining skills and diversifying those skills in the community.
"There also needs to be a short, medium and longer term package, and that needs to be something that can build on some of the successes that the Welsh government and the UK government would have had elsewhere.
"The obvious one is Newport Unlimited and the package of support that offered when the steelworks closed. That's the sort of package that Pembrokeshire and west Wales also deserves."
All but 60 of the 400 Murco oil refinery jobs are set to go after a deal to save it from closure collapsed earlier this week.
But there are also concerns that hundreds of supply chain and support jobs could be lost.
'Take it forward'
Labour AM Joyce Watson, whose mid and west Wales constituency covers the area, hopes the skillset of the workforce could encourage investment in the wind farm energy sector in the area.
She said: "Wind power is a growing and evolving technology. We ought to be making some of that here.
"We ought to be able to teach people how, once we've built a wind power energy site, how to upgrade it and maintain it. That's where we need to use these skills.
"Pembrokeshire has been the capital of the energy sector in the UK - we must capitalise on that and we must take it forward."
A taskforce, set up by the Welsh government, will meet in Cardiff on Tuesday to discuss a way forward.