Ex-coroner John Owen jailed for five years for £1m theft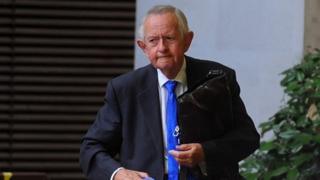 The former coroner for Carmarthenshire who stole £1m from a dead man's estate to "prop up" his struggling law firm has been jailed for five years.
John Owen, 79, from Llandeilo, stole the money from farmer John Williams after being made executor of his will.
Cardiff Crown Court heard Owen had been a "pillar of the community" but his reputation was ruined when his crimes were revealed.
He previously admitted 17 counts of theft and false accounting.
The court heard Mr Williams, from Llangadog, died a bachelor in 1997 with no immediate family and his farm was sold.
Three executors were named but two died, leaving solicitor Owen the sole trustee of the estate.
'Deeply ashamed'
Janet McDonald, prosecuting, said Owen dishonestly claimed the money, which had been intended for charity, between 2003 and 2011 by billing for work he did not do.
His company had got into financial difficulty and he used the money to keep it going, the court heard.
Owen was only found out when one of his employees, Pauline Mainwaring, contacted the Solicitors Regulation Authority concerned about the "alarming rate" in which money was disappearing from Mr Williams's account.
Ms McDonald said there was no record of what Owen did with the £1m, but his colleagues said he had led an "extravagant lifestyle" even when his firm was struggling.
Peter Rouch QC, defending, said Owen had carried out his work as a solicitor, and later as coroner "impeccably and in an exemplary manner" for 43 years.
But his company began to struggle because the system of billing clients was haphazard, he regularly undercharged for work and was reluctant to let staff go.
He said Owen, who has previously had treatment for prostate cancer, was "deeply ashamed" of his actions because of the damage caused to his community and his profession.
'Fall from grace'
Judge Stephen Hopkins QC said the solicitor had used his position of responsibility to steal half of the bequeathed amount from Mr Williams's estate.
"Your fall from grace has been spectacular," he said.
"You have lost your professional standing and your good name. You owed a duty of utmost good faith to your client and you were in breach of trust, damaging not only your victim but also your colleagues and profession at large."
An application to recover some of the stolen money was made for £125,868.36 under the Proceeds of Crime Act.
The court heard Owen and his wife had sold their home to help repay the money.