'Spectacular' rare sea slugs found on Pembrokeshire coast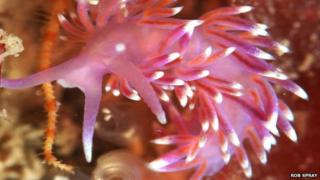 "Spectacular" may not be the first word you would use to describe a slug.
But according to Natural Resources Wales (NRW) rare sea slugs found off the coast of Pembrokeshire are just that.
The "Nudibranchs" were spotted deep in the sea near Skomer Island and come in a variety of different shapes and colours.
NRW say around 68% of the total UK species can be found within a 8.2 mile (13 km) area of Pembrokeshire.
Kate Lock from NRW said there are 51 different species of sea slug.
She added: "Sea slugs are carnivores, at the top of the food chain, so their presence tells us a lot about the eco-system as a whole.
"We're lucky at Skomer to have such a huge variety of species, all uniquely spectacular."