System to cut traffic pollution in Swansea from 2015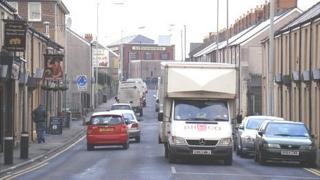 A £100,000 system to divert traffic away from a busy Swansea street to prevent European pollution levels being broken, will go live early next year.
The affected section of Neath Road in Hafod runs from the Liberty Stadium to the traffic lights at Dyfatty.
It has suffered for a number of years with traffic problems.
The Nowcaster system monitors air, traffic and weather and sends messages to signs in the city centre telling motorists to use other routes.
The information signs have been erected along Fabian Way, Quay Parade and in the Hafod area.
The scheme was first announced two years ago but there have been delays in developing the software for Nowcaster, which was trialled and developed in Sweden.
Exceeding safe levels
Mark Thomas, Swansea council's cabinet member for environment and transportation, said: "This system is one of the first in the country to be developed and it's taken a couple of years for us to get to this point.
"We are confident that when it is launched it will be a great benefit to residents in the communities where air pollution caused by vehicles is a concern."
Hafod has been a designated air quality management area since 2001 because pollution in the air exceeds safe levels.
Heavy goods vehicles were banned from the road in 1999, and speed bumps were removed in 2007 to help ease traffic flow.
Buses have also been diverted from Neath Road to another road running alongside and a relief road is being built to help ease congestion.