Father pretended to be 'caring and doting' but 'beat' baby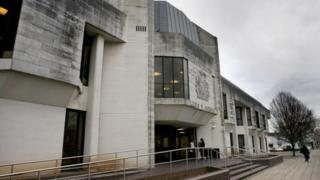 A "doting" father broke his four-month-old daughter's neck and damaged her spine by shaking her, swinging her by the legs and sitting on her, a court has heard.
Swansea Crown Court heard the man, 20, squeezed her, gripped her by the throat and pressed fingers into her eyes.
He said he was "a monster", but that he was under immense pressure raising the baby, who he had pretended to dote on.
He accepts causing injury but denies grievous bodily harm with intent.
The court heard the baby girl was rushed to hospital in January after she became unresponsive and floppy.
Scans showed she had fractured vertebrae in her neck and had a spinal cord injury.
'Incomprehensible'
The jury heard doctors were concerned her injuries had been caused deliberately and she was transferred to hospital in Cardiff.
X-rays revealed she had five rib fractures, as well as other older fractures which had started to heal.
Dr Paul Davies, a consultant paediatrician based in Cardiff, told the court there were no medical reasons for the baby's injuries, and in his view, they had been caused by someone using deliberate force.
During police interview the girl's father, who cannot be named for legal reasons, denied abusing her.
But he later admitted he had deliberately tried to hurt the infant.
Catherine Richards, prosecuting, said that in a statement, the father described himself as a Jekyll and Hyde character.
Treated like 'doll'
He also said he was "a monster", but said he was under immense pressure raising the child.
Ms Richards said: "To the outside world he portrayed himself as a loving father... a caring and doting dad."
"The defendant did things to his daughter that were incomprehensible.
"He treated her like a plastic doll, and all of that while putting on a face of loving care," she said.
The girl is now in the care of a local authority.
The trial continues.