Morriston Hospital heart surgery services 'making progress'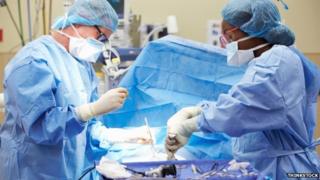 Heart surgery services at a Swansea hospital have made good progress but improvements are needed, a report says.
A cardiac surgery review was ordered at Morriston Hospital in 2013 to combat "deep-rooted, long-term" issues.
The report, by a panel of experts, said there was "real progress" in areas which were criticised last year, but there are still inefficiencies.
Abertawe Bro Morgannwg health board boss Paul Roberts said it was "very pleasing" to see positive conclusions.
The report praises progress made in how teams work together, communicate and work done to tackle bullying.
"On the whole, the external panel believes that really good progress has been made in the last year," it adds.
However, it does say the cardiac surgery service "is very inefficient" in terms of length of stay and how theatres are utilised as well as being "significantly understaffed in several areas".
Health board chief executive Mr Roberts said: "We commissioned the expert panel last year because of some deep-rooted, long-term problems within the service that we wanted to tackle once and for all."