Ex-Murco worker embarks on Arctic dogsled bid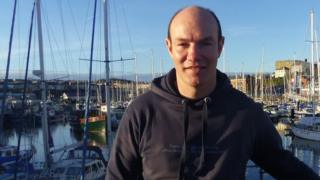 A father made redundant from a Pembrokeshire oil refinery has embarked on a once in a lifetime opportunity to dogsled in the Arctic.
Gregg Miller, 39, from Milford Haven, lost his job at Murco last month after a deal to sell it collapsed.
But he decided to do something positive and apply to travel 186 miles (300km) across the Arctic Tundra in Norway and Sweden for charity.
Mr Miller is one of 340 staff made redundant at the plant.
"It's a case now of a forced decision as to whether you relocate to look for work or whether you try and stay in the area," he said.
"It's something that I need to try and react to positively."
Almost 50 candidates from the UK have applied for one of the 20 places available on the Fjallraven Polar 2015 expedition which will use more than 200 huskies and take place in April.
"I always like being outdoors, whether it be walking or going up the mountains," he said.
"I saw the polar expedition advertised and I just thought given my situation and current circumstance it would be a great challenge and something totally different to have a go at."
Murco will be converted into a storage facility which will need just 60 staff.