Hundreds ignore Port Talbot M4 speed cameras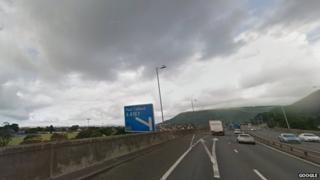 Hundreds of motorists a day are ignoring new average 50mph speed enforcement cameras on the M4 through Port Talbot.
The four cameras were installed in October on a two-mile stretch and are currently being tested and monitored.
Enforcement action comes into force on 19 January, with currently up to 700 drivers a day ignoring the speed limit.
It will be the first permanent installation to go into operation on a Welsh section of the motorway.
Wales Road Casualty Reduction Partnership GoSafe says the testing period also allows drivers to become familiar with the speed limit.
Statistics given to BBC Wales by the partnership show:
The number of people exceeding the limit is between 400-700 per day depending on the day of week and time
However, given the volume of traffic this is still only less than 1% of traffic volume
The highest speed recorded so far is 98mph
From 5 January those people exceeding the limit will receive a cautionary letter informing they have exceeded the speed limit.
Enforcement will start when the system goes live on 19 January.
Junction trial
"This will give the general public time to adjust their speeds and change their driving behaviour," said a spokeswoman.
There are also permanent average speed cameras on the A55 in north Wales and the A465 Heads of the Valleys road.
The GoSafe spokeswoman added: "Motorists need to be aware that enforcement will begin early in the new year.
"GoSafe are looking to run an active media campaign in the run up to the live period in order to inform motorists of the need to comply with the relevant speed limit for the safety of all road users."
The Welsh government is four months into a trial of closing the westbound slip road of junction 41 at Port Talbot during peak hours.
Congestion means traffic speeds drop to between 25-30mph during peak rush hours and the aim is to improve journey times.
The trial will be reviewed in March 2015 to see whether it has been a success.