Pembrokeshire council's car scheme for managers costs £115k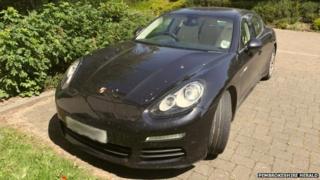 A lease hire car scheme for more than 20 managers costs a west Wales authority more than £115,000.
Pembrokeshire council claimed the cars are part of the contracts for chief officers and mean savings on a lower mileage rate.
It comes after it was revealed former chief executive Bryn Parry-Jones was loaned a Porsche worth £90,000.
Five officials classed as directors can claim up to £7,360, and 16 "heads of service" can claim up to £5,156.
The council confirmed to the BBC the current cost to the authority but it is understood not all claim up to the maximum, and the amount depends on the car they choose.
Mr Parry-Jones quit Pembrokeshire council in October after it emerged he received cash payments in lieu of pension contributions.
On Thursday, councillors begin the process of replacing him with a new chief executive.
The job will be advertised early next year, with the new appointee due to be selected in March.
As part of the replacement process, Pembrokeshire council backed a motion to allow councillors to vote on senior officers being paid more than £100,000.
Mr Parry-Jones earned £195,000 and received a £277,000 severance deal after quitting his job in October.
The 21 other local authorities in Wales have said they do not provide lease hire cars to their chief executives, as was provided to Mr Parry Jones at Pembrokeshire council.
The councils have yet to confirm, however, whether or not they provide similar lease hire car schemes to other staff at management level.