Tenby 'pirates' in hearty Boxing Day swim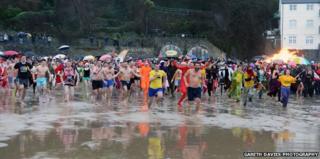 Hundreds of barmy bathers have been taking part in Tenby's annual festive dip.
There was a fancy dress theme of "pirates and princesses" for the 44th Boxing Day swim from North Beach.
Sea temperatures were 11 degrees - slightly warmer than the conditions for spectators.
The event, organised by the Tenby Sea Swimming Association (TSSA), is expected to raise thousands of pounds for charity.
It prides itself on always going ahead, whatever the weather.
Before the main event was a raft race around Goscar Rock, held in memory of Dai Rees, of Saundersfoot, who regularly took part.
The challenge was won by his brothers, Adam and Richard, who came home at the head of the nine-craft fleet.
Tenby's mayor Sue Lane said: "It's been a thoroughly enjoyable morning and a pleasure to see so many people turning up and in such wonderful costumes."