Neath theatre staff reapply for jobs after council spending cuts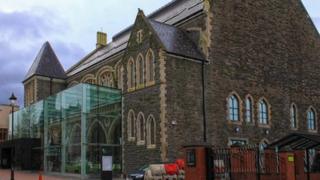 A number of staff at a Neath theatre venue have been forced to reapply for their jobs due to spending cuts.
Gwyn Hall, which is run by Celtic Leisure, has to save £100,000 in the current and next financial years.
The savings are part of the £19m savings that need to be met by Neath Port Talbot council.
The cuts mean there has been one compulsory staff redundancy, while other staff have had to reapply for their jobs - but with lower pay.
Local Unison chairman Mark Fisher said the union had been negotiating with Celtic Leisure to avoid any more redundancies, but feared it was just the "tip of the iceberg" because of further cuts to hit the area.
A spokeswoman for Celtic Leisure said: "All staff and trade unions were consulted with, and appropriate arrangements have been taken to ensure this saving will be made during the current and next financial year."