£600,000 for Saundersfoot harbour redevelopment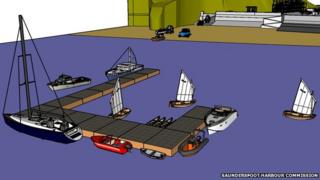 A bid to turn a Pembrokeshire harbour into an international marine tourism destination has stepped up a gear after securing more than £600,000 in funding.
Work to transform facilities at Saundersfoot is being awarded £463,500 in European regional funds, as well as £200,000 in tourism development cash.
The announcement was being made by First Minister Carwyn Jones, as he visited the harbour on Thursday.
It is the first part of £4m scheme to boost tourism and jobs in the town.
The rest of the funding for the first £900,000 phase of the project is being met by the harbour commission, which operates as a trust, ploughing any profits it makes back into supporting the harbour.
The money will go towards building new visitor pontoons and a new commercial slipway.
It will see almost half a kilometre of walkways built to link the new facilities, including decking over the existing sluice gates, and a dry racking area for boat storage.
There are also hopes to establish a heritage trail, linking to the development of a coastal centre of excellence in the town.
Increasing visitor capacity and improving harbour access "is key to competing on an international stage" said Mr Jones.
The initial investment will bring 24 jobs to the town, while the entire redevelopment plans for the harbour and town will cost £4m.
Philip Evans, who chairs the harbour commission, said the first phase of funding allocated by the Welsh government was a "trigger" for the coastal centre of excellence, which itself will bring 55 jobs to Saundersfoot.
He said an internationally recognised iconic leisure and commercial harbour "is now achievable".