Swansea GP 'vulnerable' after Ryan Simon throttle attack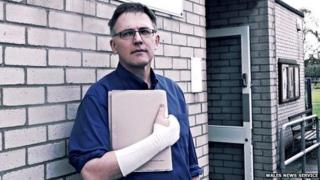 A GP who was throttled by a patient after refusing to give him a repeat prescription said the incident highlighted the vulnerability of doctors.
Swansea magistrates jailed Ryan Simon, 22, of Penclawdd, for the attack on David Werner at his surgery.
Dr Werner said staff often deal with violent people and at times the surgery "feels under siege".
He has now invested in a personal alarm to ensure his safety.
The court heard Simon put his hands around Dr Werner's neck and squeezed, "shouting I will fight you for this" after he refused his demands for another prescription of painkillers.
He released his grip as staff at the Penclawdd Medical Centre rushed in.
'Feel bullied'
The court heard Simon had claimed his prescription drugs had been stolen, but Dr Werner asked for proof before issuing more.
Richard Ambrose, defending, said Simon's threat to fight was a warning that he would fight Dr Werner in the courts to obtain the drug.
Speaking after the hearing, Dr Werner said he got off lightly with his injuries but said the attack made him realise how vulnerable doctors are.
"We deal with a lot of people with a history of violent conduct and the surgery feels under siege at times," he said.
"I think the shock was the worst part of it and also the effect [of the attack] on the surgery as a whole.
"I have talked to a few other doctors and it's surprising how many others feel bullied."
He said, in his opinion, instances of violence were becoming more common because there was a general lack of respect for authority.
As well as a five-and-a-half-month jail term, Simon, who admitted assault, was banned from attending the health centre for three years.