Rugby player Carl Griffiths too big for his boots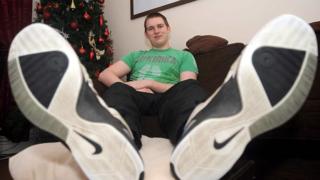 A Carmarthenshire rugby player has been sidelined because he has become too big for his boots.
Carl Griffiths, from Trimsaran, has worn out his last pair and cannot find a replacement.
The 22-year-old, who has size 21 feet, has been squeezing into size 18s to play for the village team and had kept them together using black sticky tape.
Mr Griffiths, who stands 6ft 8in tall, is appealing for help after struggling to get a company to make them.
"At least when you have an injury, you know you just can't play for a while," he said.
"But when I'm out just because of not having shoes that fit, it's just really frustrating. I just want to play rugby.
"I've had some boots in size 18 and I wore them with my toes curled right up, but I broke a toe when someone stepped on it."
Mr Griffiths managed to get his last pair from the United States when he was aged 14.