Captain Beany marks 60th birthday with 60 bean tattoos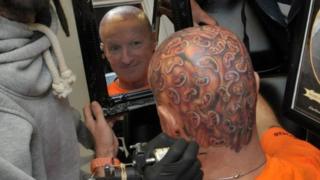 The finishing touches to a 60-baked bean tattoo have been made on a man's bald head to celebrate his forthcoming milestone birthday.
Barry Kirk, 59, of Port Talbot, had the food inked onto his scalp as part of his lifelong love of the baked bean.
He loves the meal so much he even changed his name to Captain Beany and turned his home into a Baked Bean Museum of Excellence.
Each of his tattoos have been sponsored and the money will go to charity.