Aberavon beach kite buggy rider swept into the air by wind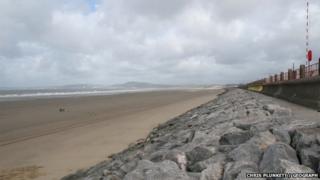 A kite buggy rider suffered head and spinal injuries after he was blown into the air by strong winds before crashing down onto the beach.
The 35-year-old Cardiff man was swept into the air after the kite separated from the buggy on Aberavon beach in Port Talbot on Sunday afternoon.
He was knocked unconscious on landing before another gust of wind lifted him into the air again.
Coastguards helped him before he was taken to hospital by air ambulance.
Winds had been gusting at more than 50mph at the time of the accident, involving the three-wheeled buggy which is pulled along by a kite.
Coastguard Martin Williams said: "He was going along the beach in the sand dunes area and the wind took him up into the air. He came down with a massive thump."