Tottenham Hotspur supporter banned for Swansea game flare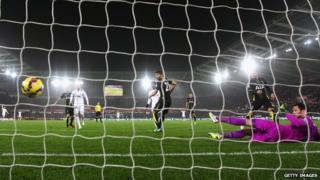 A Welsh Tottenham Hotspur supporter has been handed a three-year ban from all football matches after setting off a flare at Swansea's Liberty Stadium.
Gethyn Victor Davies, 22, from Maesteg set off the smoke bomb during a game between Swansea and Spurs on 14 December.
He also entered the pitch playing area - which is a criminal offence.
He was convicted of both charges by Swansea magistrates and fined £465.
As part of the order, Davies was also banned from entering any town or city where Tottenham are playing for six hours before or after the game.
"Setting off flares and entering the playing area are serious matters and the punishment issued to the Tottenham supporter for his behaviour at the Liberty Stadium sends out a strong message to visiting fans," said Ch Supt Phil Davies.
"Anyone whose behaviour falls short of the mark will be dealt with and face the prospect of being banned from attending any future matches in the UK for a considerable period of time."