New M4 speed cameras go live in Port Talbot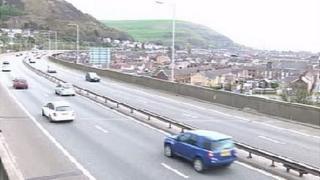 New average 50mph speed enforcement cameras on the M4 through Port Talbot have gone live.
The four cameras were installed in October on a two-mile stretch and during a trial period hundreds of motorists a day were found to be ignoring the speed limit.
Enforcement action will come into force from Monday.
It will be the first permanent installation to go into operation on a Welsh section of the motorway.
Wales Road Casualty Reduction Partnership GoSafe said the testing period gave motorists a chance to become familiar with the limit and adjust their speeds and driving behaviour.