Dylan Thomas boathouse: Turbine decision awaited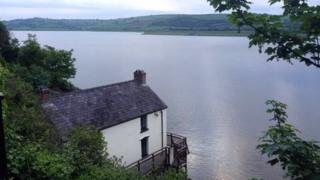 Campaigners fighting to stop a giant wind turbine being built opposite Dylan Thomas's boathouse in Laugharne are awaiting a judge's decision to learn if they have succeeded.
The High Court in Cardiff heard the 147ft (50m) turbine was approved by Carmarthenshire councillors who had not seen the site from the writer's home.
Campaign leaders said members ignored a senior council officer's advice that it could ruin a "iconic view".
The court has reserved its judgement.
'Inconsistencies'
Annabel Graham Paul, representing the campaigners, told the court on Monday: "The council's own conservation officer described it as a historic landscape of exceptional sensitivity."
She said the councillors had not given any clear reasons for rejecting their own officer's advice.
Miss Graham Paul added: "They had a lack of ability to form their own view from Laugharne because they didn't leave enough time to visit the site.
"They said there were inconsistencies in the council officer's recommendation to reject planning permission but no inconsistencies were identified in the meeting minutes."
Richard Ground, for Carmarthenshire council, said members had seen an artist's impression of the turbine which "apparent but minor view point change".
He said it would be painted off-white to blend in with the sky and could be taken down at the end of its 25-year lifespan.
Judge Andrew Gilbart QC told the hearing it was "impossible" to suggest it would not have significant impact on the landscape.
He reserved judgement for up to four weeks.