Wheelie bin given parking ticket in Carmarthen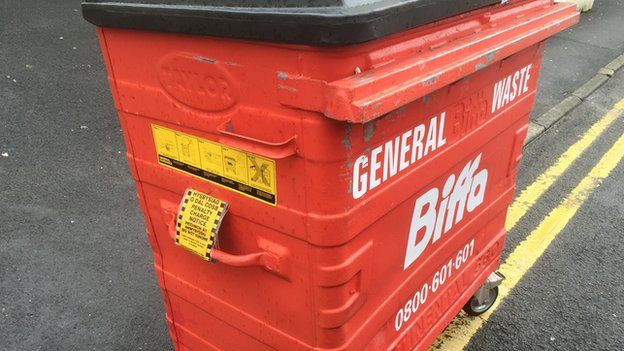 A traffic warden is being investigated after a parking ticket was placed on a wheelie bin.
The warden was accused of "bizarre behaviour" by onlookers as the penalty charge notice was stuck on the bin which was on double yellow lines in Carmarthen.
Carmarthenshire council said no ticket was inside the wrapper and the incident was a light-hearted moment.
However it said the warden's conduct was being looked into.
Salesman Mike Jones said he spotted the warden talking to other motorists about the wheelie bin from a town centre shop blocking the road.
"It was bizarre - I realised I had just watched a warden give a ticket to a wheelie bin for bad parking," he said.
"It appeared the warden slapped the plastic ticket envelope on the bin in a moment of high jinks after a member of public pointed out it was parked on double yellow lines."
Carmarthenshire council traffic and safety manager John McEvoy said: "There was no ticket issued, it is not possible to book a wheelie bin or anything that is not motorised.
"Although this was meant as a humorous incident, we take this kind of thing very seriously and have launched a formal investigation into the conduct of this officer."
Related Internet Links
The BBC is not responsible for the content of external sites.