Blue plaque for Swansea scientist Sir William Grove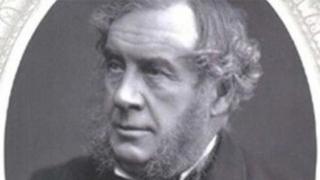 A 19th Century scientist who invented the technology which went on to power space shuttles will be honoured with a blue plaque.
Sir William Grove, of Swansea, developed the first cell to produce electrical energy by combining hydrogen and oxygen in 1842.
The technology later provided water and power for the Apollo missions to the moon.
The plaque will be placed where he once lived in the city's Grove Place.
Sir William, who was founder of the Swansea Literary and Philosophical Society, combined his legal career with a series of scientific achievements.
'Intellectual heavyweight'
Three years before he developed the hydrogen fuel cell, he invented the nitric acid battery which powered the expanding telegraph system.
And his theory of the correlation of physical forces is widely regarded as a precursor to one of the most important ideas in physics - the conservation of energy.
Sir William died in 1896 and is buried in London's Kensal Green Cemetery.
Councillor Robert Francis-Davies, Swansea council's cabinet member for enterprise, development and regeneration, said the physicist's life and story would be fascinating for residents and visitors.
"Sir William was an intellectual heavyweight who maintained close links with Swansea right up until his death," he said.
"We're rightly proud to call him one of our city's most accomplished sons."