Stolen Bradford Northern rugby medals appeal by police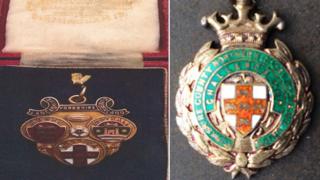 A renewed police appeal has been launched to find a rugby cup winner's medals dating back almost 70 years following their theft four years ago.
The 95-year-old widow of Emlyn Walters, who played for the Bradford Northern rugby league team now known as the Bradford Bulls, reported them missing in 2011.
Her late husband played in Challenge Cup winning finals at Wembley Stadium in 1947 and 1949.
One of the medals is made of gold.
Glynneath neighbourhood beat manager PC Martin Jenkins said the medals are believed to have been taken from the property in Glynneath in September 2011.
"These items are obviously extremely rare and of great sentimental value to the owner as they belonged to her late husband who was one of the first converts from union to league from south Wales and who went on to have an extremely successful Rugby League career," he said.
"This theft has had a massive impact on her life and that of her family as these medals were special to them and they long to get them returned."
The 1947 medal is in the shape of a shield with three coats of arms and an inscription on the rear.
The other two medals are circular, green and silver in colour; one has the words Yorkshire League around the edge, the other had the words Lancashire League.
Anyone with information should call 101.