Council in talks to sell Liberty Stadium to Swansea City FC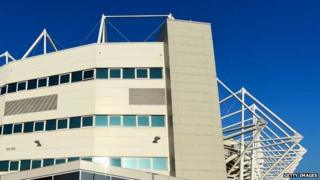 Swansea's Liberty Stadium could be sold to the football club, the city council has confirmed.
The authority says its held "positive, exploratory" talks with the Swans over the sale.
The council, which owns the ground, said any deal would give the football club "complete control" over the stadium.
However, the needs of the Ospreys rugby side would have to be protected.
The football and rugby union team have shared the stadium since it opened in 2005.
City finances
Council leader Rob Stewart said: "Positive, exploratory discussions with the Swans have now started about selling the Liberty Stadium to them."
Any deal would help plug the gaping hole in council finances, with the authority looking to make £81m savings over the next three years.
"The potential sale of the Liberty Stadium would generate even more income that would help protect as many services as possible for residents," added Mr Stewart.
A spokesman for Swansea City said: "The talks are only at an early stage and are likely to continue for some time".