Swansea Vale mother's anaphylactic shock from rose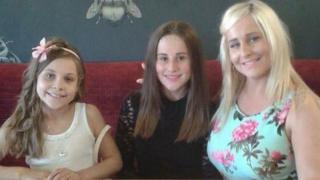 A mother who suffered a potentially fatal allergic reaction to a rose was saved by her daughter.
Emma Honeyman, 33, of Tregof Village, Swansea Vale, collapsed after rubbing one of the flower's petals while shopping with daughter Caitlyn, 11.
Ms Honeyman had an allergic reaction to the pesticides and chemicals on the flower and had an anaphylactic shock.
Caitlyn raised the alarm and her mother was rushed to hospital where doctors were able to save her life.
Ms Honeyman said: "I collapsed in the street. I've never been so scared in all my life. I thought I was dying on the side of the road."
Caitlyn ran for almost a mile to get help for her mum as she struggled to breath near the Tesco store in Llansamlet, Swansea.
Paramedics used adrenaline shots and a strong antihistamine before taking Ms Honeyman to Morriston Hospital where doctors diagnosed her with anaphylaxis.
"Caitlyn was amazing - I am so proud of her, she saved my life," Ms Honeyman said.