'Dead' woman Trisha Meikle horrified by Facebook rumours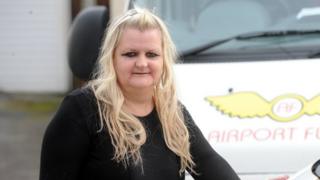 A businesswoman was horrified to hear her friends had started a collection for her funeral after being told she was dead.
They were led to believe 52-year-old Trisha Meikle, from Neath, had "dropped down dead" after a night out.
The rumour about the airport shuttle owner went out of control on Facebook.
"The rumour was I had gone to bingo, got drunk, went home and dropped down dead - I don't even drink," Ms Meikle said.
She believes the rumour could have been started by a business rival.