Newgale and Tintern roads shuts amid rare supertide fear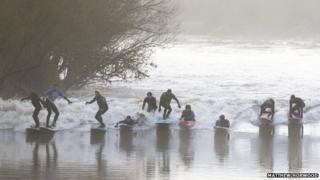 Fears that rare high tides could breach sea and river defences have caused roads to close and flood warnings to be issued.
The coastline in south Wales is likely to be most affected as spring tides reach the peak of an 18-and-a-half-year cycle, Natural Resources Wales said.
Three flood warnings are in place from the Gower through to the Wye Estuary ahead of the so-called "supertides".
Some roads are closing ahead of the high tides, which peak on Saturday.
The A487 was shut at Newgale in Pembrokeshire on Friday morning and is likely to close again on Saturday morning, Pembrokeshire council said.
In Tintern, Monmouthshire, the A466 will close temporarily before each high tide.
Coupled with bad weather, the high tides could cause flooding and Natural Resources Wales warned people to be careful on coastal roads.
It also said sea spray could also make promenades and piers hazardous.
However, surfers have been taking advantage of the high tide by riding the Severn Bore.
The rare "five star" bore pushes a surge of water up the Severn Estuary, creating a wave that expert surfers can ride.
Greater force
The high astronomical tides, known as spring tides, will be at their peak between 18 and 23 February.
They will see the position of the sun, moon and earth align in such a way that they combine to create a greater than normal force over the oceans. The greater force means the tides will be higher than usual spring tides.
The high tides come after more than 100 people attended a public meeting to discuss the future viability of Newgale's flood defences earlier this week.