Fifth day of Cameron Comey River Towy search ends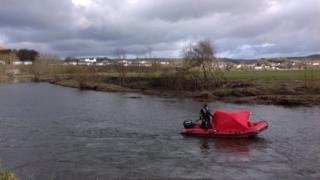 The search for a missing schoolboy who fell into a Carmarthen river has stopped for the evening and will resume on Sunday morning.
Cameron Comey, 11, fell into the River Towy on Tuesday while playing with his brother nearby.
The fifth day of searching, involving a 50-strong team from the emergency services, was delayed slightly due to the river's high tide.
Dyfed-Powys Police said the search will continue on Sunday.
On Sunday evening, following a sixth day of searching, a candlelit vigil will be held for Cameron in the town.
Members of the public are invited to light a candle for the schoolboy at a "Bridge of Light" ceremony on King Morgan Bridge.
More than 140 people gathered at St Peter's Church in Carmarthen to light candles and say prayers for Cameron on Friday.
Representatives from the emergency services and Queen Elizabeth High, Cameron's school, attended.
Head teacher Peter Spencer said: "We are all praying for Cameron and the thoughts of the whole school community are with his family.
"We will be holding a series of special assemblies when school returns on Monday and have planned additional support to help pupils and staff to get through this difficult time."