Search for missing Cameron Comey ends for seventh day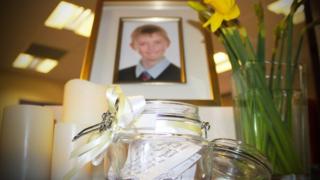 The search for a missing 11-year-old schoolboy who fell into a Carmarthen river has stopped for the night.
Cameron Comey fell into the River Towy last Tuesday while playing with his brother.
Special assemblies have been held at Cameron's school Queen Elizabeth High School, in Carmarthen.
Headteacher Pete Spencer said pupils and staff wrote personal messages of hope to Cameron and his family, which were placed in a jar.
It comes after 350 people attended a 'Bridge of Light' ceremony on Sunday evening.
The event saw Cameron's family and members of the public light candles of hope on King Morgan Bridge.
Police had to wait for water levels to stabilised following high tide before three boats re-entered the river where Cameron fell in at an area known locally as "the steels".
The police helicopter was seen flying along the river before lunchtime and sniffer dogs also joined the search.
On Monday, Mr Spencer said in a statement: "Words of comfort and prayers were provided by Reverend Flis Randall from Carmarthen Methodist Church and Reverend Leigh Richardson from St Peters Church.
"We are also very grateful to the police for coming along, and appreciate their support and reassurance."