Anger after CCTV put in Carmarthen's Queen Elizabeth High's toilets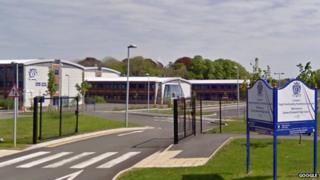 A decision to install CCTV cameras in the toilets of a Carmarthen school has angered some parents.
The equipment has been placed in public areas across Queen Elizabeth High School in a bid to deter vandalism and bullying.
But the move has sparked anger after one parent complained on social media that everyone was being "punished".
A senior member of school staff told BBC Wales the decision to install the cameras was a "last resort".
Dozens of parents are insisting the cameras - which will point at sinks, not cubicles when operational - should be removed.
"Obviously vandalism is an issue, but there's probably only a handful of wrong-doers, and I feel everyone is being punished for that,' said parent Guy Smith.
"I feel it's a fait accompli. There should have been a proper consultation with parents and children."
A senior member of staff said the cameras follow years of vandalism and would be removed if they made no difference to disruptive behaviour.