St Catherine Street, Carmarthen, reopens after house fire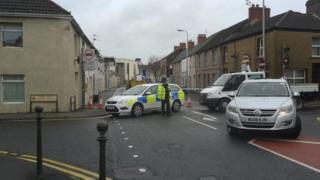 A main road through Carmarthen town centre has been reopened after an earlier closure due to a house fire which left one person in hospital.
Crews from Carmarthen and Whitland were called to the blaze in the ground floor of the terraced home on St Catherine Street at 07:50 GMT on Friday.
The road was closed for about 90 minutes.
Fire investigators are examining the house in a bid to establish the cause of the fire.