Groups who inspired Pride film reunite after 30 years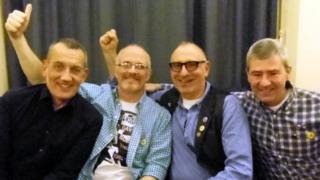 Two groups whose activities during the miners' strike inspired the hit film Pride have reunited for the first time in three decades.
Lesbian and Gays Support the Miners' Group members and the Neath, Dulais and Swansea Valley Miners' Support Group held a 30th anniversary reunion.
Hundreds gathered at the Onllwyn Miners Welfare Hall in the Dulais Valley on Saturday night.
The event raised £4,000 for the Mark Ashton Trust, an HIV charity.
The charity was founded in honour of Mark Ashton, one of the leading gay activists portrayed in the films, who died in 1987.
Mark's brother Lee Ashton, who travelled from Burnley in Lancashire, said: "To have two absolute opposite polars of communities coming together to support each other is really a fantastic story of humanity."
The secretary of the Lesbians and Gays Support the Miners' Group Mike Jackson, whose character is played by Joe Gilgun in Pride, said they have been overwhelmed by the interest in their story.
Swansea East MP Sian James, the secretary of the miners' support group, added: "We wanted to remind ourselves that we could do this sort of thing, and we could gather the community together again, and it's been so successful."