Referee Nigel Owens meets man who sent homophobic tweet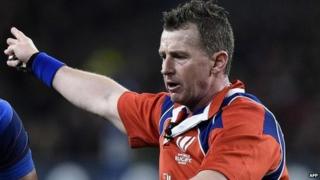 Referee Nigel Owens has received a face-to-face apology from the teenager who sent him a homophobic tweet after England's Six Nations game with France.
The tweet from Edryd James, 18, of Cynwyl Elfed, Carmarthenshire, was investigated by Dyfed-Powys Police after complaints from the public.
The teenager apologised to Mr Owens at Carmarthen Police Station on Wednesday.
A Dyfed-Powys Police spokesman said: "We will not tolerate discrimination of any kind. He realises his mistake."
The meeting was part of an Adult Community Resolution project, which is a way of resolving crimes.
It allows victims to be involved in deciding how the offender can be dealt with by choosing from a list of out-of-court options.
Mr James also posted an apology on Twitter on Monday and tweeted Mr Owens directly to say: "Sorry pal".
Earlier, Mr Owens tweeted his followers to say: "Thanks for all ur support. The winner this weekend was rugby its players & genuine supporters."