Ex-solicitor Simon Griffiths jailed for £60,000 fraud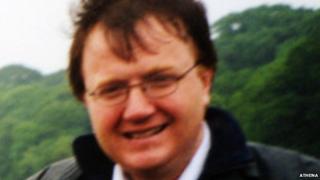 A former Pembrokeshire solicitor has been jailed for two years for defrauding the family of a dead woman.
Simon Griffiths, 52, from Pembroke, withheld £60,000 from the sister of one of his clients after she died.
Swansea Crown Court heard Griffiths, who ran Eaves Solicitors in Milford Haven, was struck off in 2013 and is now bankrupt.
Griffiths, who admitted fraud, transferred the cash into the accounts of a firm he was director of.
The court heard when Helen Ward-Jones died in 2011, Griffiths paid her sister Barbara Collins her share of the estate but did not pay her other sister, Christine Sheridan.
Dyfed Thomas, defending, said: "He was a man who was a trusted professional until his spectacular fall from grace."