Sainsbury's scraps plans for 500 jobs in Haverfordwest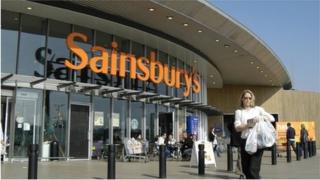 Sainsbury's has scrapped its plans to create around 500 jobs with a new store in Pembrokeshire.
The company announced on Friday that following a review, the 60,000 sq ft (5,570 sq m) superstore at Slade Lane, Haverfordwest, was "no longer viable".
Pembrokeshire council leader Jamie Adams said he recognised the "economic pressures" the firm was under.
Sainsbury's has now sold the land back to development company Conygar which is building 700 homes at the site.
A Sainsbury's spokesman said: "Since the proposals were first announced shopping patterns have changed considerably, with an increased customer focus on convenience and online food shopping."
A spokesman for Conygar said the land would be incorporated into its plans to build 729 residential units on the 86 acre (34 hectare) site.