Police look into Felinfoel chapel embezzlement claim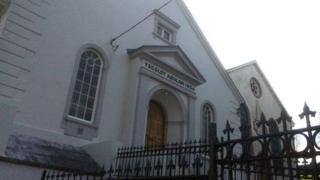 An allegation that money has been embezzled from an historical chapel in Carmarthenshire has been reported to the police.
The claim involves the Adulam Chapel in Felinfoel, near Llanelli.
The Llanelli Star newspaper has reported that £50,000 has gone missing.
Reverend Alan Jones, the chapel's minister told the paper: "The members are aware, and it is being dealt with in the appropriate manner. We are confident of dealing with the matter."
Speaking to BBC Wales, he would not add to his earlier statement.
There have been no arrests and BBC Wales understands that there is no active criminal investigation at this stage.
Police 'received information'
A spokesperson for Dyfed Powys Police confirmed it received information in relation to a report of embezzlement at Adulam Chapel, Felinfoel.
The spokesperson said: "We are in the early stages of evaluating this information".
Adulam Chapel was built in 1840, although baptists attended a meeting house founded on the same site in Felinfoel as far back as 1709.
Restoration work at the chapel is nearing completion.
In 2009, the Welsh heritage body CADW announced it was offering a grant of £140,000 towards work on the chapel's vestry.
The Baptist Union of Wales referred the BBC's calls to Mr Jones.