Sgt Louise Lucas death: Funeral date for bus crash officer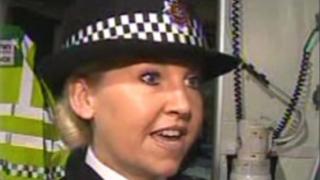 The funeral of an off-duty police officer who died after being hit by a bus will take place later this month.
Sgt Louise Lucas, 41, died after she was struck on The Kingsway in Swansea on 31 March.
The service will take place at Christ Church, Lake Road North, Cardiff, at 12:30 BST on 24 April followed by a crematorium service in Thornhill.
A coroner's investigation into Sgt Lucas's death was opened and adjourned on Wednesday.
Swansea's acting senior coroner Colin Phillips said the exact cause of death is still unknown and the inquest was adjourned for four months.
Mr Phillips previously said the road has a "serious design issue" which must be addressed.
On Tuesday, Swansea council announced changes to bus routes.
Sgt Lucas is the second person to have died on the same stretch of road.