'Man seeks single Welsh woman' in note pasted on bench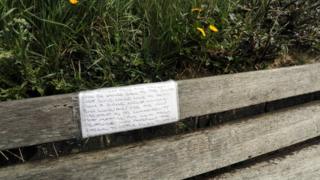 Internet dating may set the benchmark for finding love in the 21st century but a single man in Swansea has opted for a more old-fashioned approach.
A handwritten note from a "tall, slim, English white male" looking for a "single Welsh woman" was found taped to a bench on the city's promenade.
It explains the man is looking for a companion while on holiday.
"Your looks/age/size are not important," it stresses, "as it's compatibility that matters."
The lonely heart, spotted on Thursday, asks any interested parties to contact the writer for a "long-term relationship with hopefully the potential to settle down together" by sending him a text message.
The man is said to be in his 40s with dark brown eyes and hair.